A ROMAN Catholic priest who defrauded his parish of more than £50,000 and lavished thousands on his housekeeper and her daughters was living with "them as a family" has been spared jail.
Father John Reid was supposed to live a simple life, but spent £1,200 on a canteen of cutlery, was a member of the Sunday Times Wine Club and spent £80 on oysters and smoked salmon while holidaying in Scotland.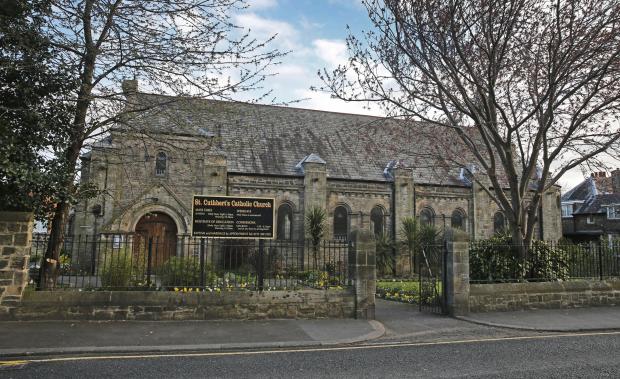 St Cuthbert's Church, Chester-le-Street, where Father John Reid was the priest                                          Picture: Glen Minikin
When the priest was replaced at St Cuthbert's Church, Chester-le-Street, County Durham, his successor found it was dirty and littered with alcohol bottles, Durham Crown Court heard.
He admitted a single count of fraud at a previous hearing. Today he was given an 18-month jail sentence suspended for two years.
Jane Waugh, prosecuting, said concerns were raised by parishioners in January 2013 about how finances were being handled.
The priest, 69, had joined the parish in 2009 and accounts showed spending increased fourfold in some aspects, and doubled overall after he took over.
Father John Reid walks to Durham Crown Court ahead of his sentencing hearing                                          Picture: Glen Minikin
"In particular, there had been dramatic increases within the categories of General Administration, House Keeping and Hospitality," she said.
"This would appear to be because Gillian, Alice and Veronica Leddy, who are mother and daughters and close friends of the defendant from his previous Parish at Willington, were effectively living at the presbytery and the defendant's expenditure increased to reflect the fact that he was helping to support them financially.
"This additional expenditure was claimed back from the Church, in expenses, by the defendant."
When the priest was replaced temporarily, his successor said the presbytery was "in a terrible condition".
Ms Waugh said: "It was dirty and untidy with large quantities of alcohol present.
"(His replacement) describes the presbytery as looking more like a family home than a presbytery.
"There was female clothing in the bedrooms and it was apparent that females had been staying there."
Passports belonging to the Leddys were found alongside his in the safe. The priest appointed Veronica Leddy as co-signatory of the parish cheque book and he began running the church without a finance committee of parishioners.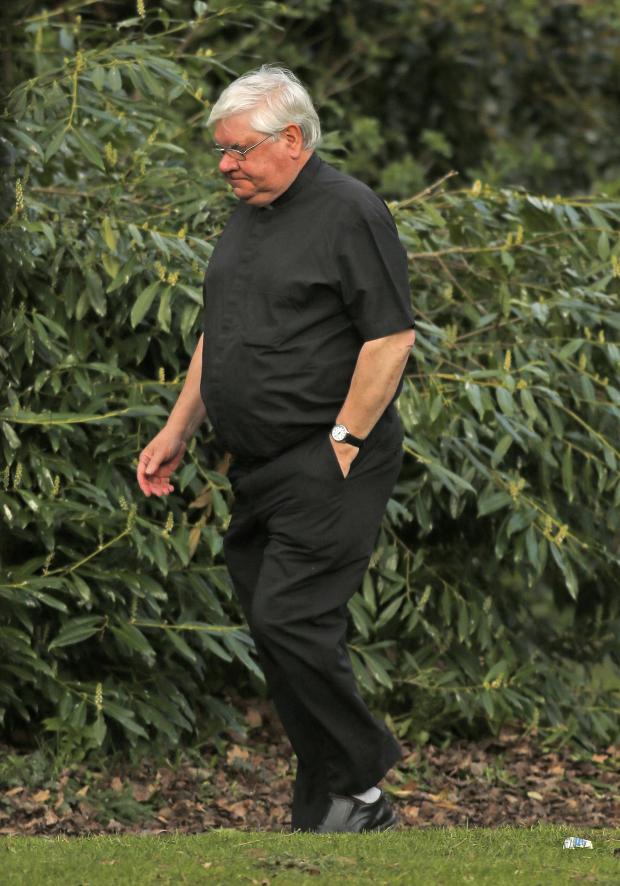 Father John Reid walks to Durham Crown Court ahead of his sentencing hearing                                          Picture: Glen Minikin
The court heard that led to a split in the church, with some backing the priest and others angry at how he was running affairs.
Ms Waugh said: "The witness Nora McKie, a lifetime parishioner, stated that the defendant had a lifestyle not typical of any priest she had known, and that the reason she took action to highlight these serious concerns was to protect those people, who with total trust were giving money to the Church."
Parishioners became concerned about the priest asking for blank cheques to be signed off, with Fr Reid handing over "bags of receipts" without adequate information about what they referred to.
An investigation involving the Bishop of Newcastle was launched and auditors were brought in, highlighting serious concerns.
Ms Waugh said there was evidence of "high living", contrary to Canon Law, yet he bought a £1,200 William Turner canteen of cutlery.
He also accepted taking the Leddys out to eat "a few times a week". Over the four years he was at St Cuthberts, Fr Reid's basic remuneration should have totalled £31,455.
But he disbursed to himself more than £113,000 from parish cheques. He wrote more than 150 cheques to himself, most of which were co-signed by Veronica Leddy.
Following the findings of the auditors a serious incident report was made to the Charity Commission by the diocese, and the matter referred to the police for a full investigation.
After he was removed from the post, sterling and euros totalling £2,349 were found in the safe. Fr Reid said this was "his holiday money".
Ms Waugh said: "The defendant was arrested in May 2014 at St Patrick's Presbytery, Stockton.
"It appeared that the Defendant was virtually living as a family with Gillian Leddy and her daughters, Veronica and Alice."
During the inquiry, it emerged the priest gave property and money to the Leddys on a "large scale", buying two homes each for Veronica and Alice, a car each and financed a cafe business for them each.
He also gave them substantial amounts of cash each. But Ms Waugh said the money for these gifts came from an inheritance of the priest, not the result of fraud.
In an interview, the portly, white-haired priest said: "The Parish keeps me", and: "Ultimately, I'm in charge of it, so I can spend it."
Ms Waugh said "clearly his household accounts suggest that a family was being supported by the parish, not just a parish priest".
Fr Reid was ordered to pay £57,527 in compensation to the church and £1,500 in court costs.