A REMOTE controlled children's car has been built by the neighbour of a severely disabled girl as part of a campaign to raise funds to help her.
Tom Robson, who lives near the family of six-year-old Ava Roberts, plans to raffle the car, along with a rocking horse he has refurbished in his 'man cave'.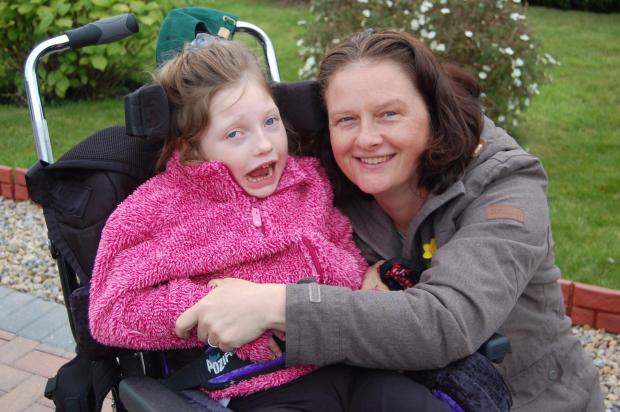 SUPPORT: Ava Roberts, pictured left, with her mother, Judith. Picture by Gavin Havery
Money raised will be used to help pay for ongoing care for Ava, who has cerebral palsy, and attends Villa Real School in Consett, County Durham.
Mr Robson, 80, and his wife, Jean, befriended the family, who live nearby in Garden Farm, Chester-le-Street, when Ava's sister, Molly, eight, started popping over to help with jobs in their garden.
Mr Robson, who uses a mobility scooter himself following an operation for a long term back problem, said: "It is all started with Molly coming over to help water the garden, and that is how we got to know the family.
"I needed something to do with my time and am happy to do something to help."
Mr Robson has also refurbished another rocking horse, which has been donated to St Cuthbert's Hospice in Durham and is being sold at auction.
The kit car cost around £400 but is now believed to be worth much more.
Ava's mother, Judith, 39, who works as a teacher, said: "He bought a kit and has spent time building up the car.
"It is now like a super duper beach comber buggy which children can sit in and drive, but parents can have a remote control as well.
"He has also done up a rocking horse and that is in the raffle."
It is hoped the raffle will raise around a £1,000 and the money will go towards the campaign, For Ava's Intensive Therapy (Faith), launched by Ava's family in March last year.
Mrs Roberts said: "It is for conductive education therapy, which teaches the children how to move with repetitive movement.
"It is getting them improve skills like crawling and rolling.
"Ava is doing really super at the minute. It is the best she has ever been, but it is an ongoing thing."
A public draw will be held at the Slimming World Meeting at the Masonic Hall in Chester-le-Street at 5.30pm on May 22.
For tickets, £1 each, call Mrs Roberts on 0746-794-6213, or enter For Ava's Intensive Therapy into Facebook.