AT 60, and with a legacy guaranteed as one of England's greatest sporting heroes, Sir Ian Botham isn't someone who needed any more challenges.
He has plenty to occupy his life, whether it's his latest epic charity walk to add to the £25m he's already raised, jetting round the world to commentate for Sky TV, or spending time with his family back home in the north of England.
And yet, Sir Ian has agreed to become Durham County Cricket Club chairman in the midst of severe financial problems which has seen the club stripped of its Test status and relegated to Division Two, with a deduction of 48 points from the start of the season.
Sir Ian Botham
The faint-hearted might easily have rejected the challenge of leading Durham's recovery. But Sir Ian has never been faint-hearted and he looks forward to 2017 brimming with positivity.
The England and Wales Cricket Board has agreed a £1.8m bailout, albeit with severe sanctions, while Durham County Council has demonstrated its commitment to the club's future by converting the £3.7m it was owed into shares in a move which Sir Ian welcomes as a crucial step.
"It's very important to have the county council on board. They could have walked away and written off the debt but what's been achieved by turning it into share options means the council will, hopefully, get everything back," he says.
"I'm optimistic. I honestly think these are exciting times for Durham. "We're going to get back in the top flight where we belong and I think we can do it this year. We're certainly good enough."
Twenty five years have passed since Sir Ian came to Durham as it emerged as the first new top-class county in 70 years and he has clearly fallen in love with the place beyond the boundaries of the Riverside cricket ground, with the iconic Lumley Castle as its backdrop.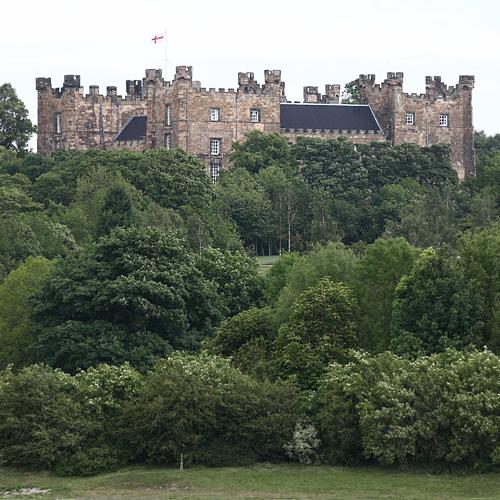 Lumley Castle
"It's haunted," he smiles. "If we want to beat the opposition, we should put them in there so they have a sleepless night and take them on the next day!"
Whatever ghosts the castle may have, he's adamant that the cricket club must not be allowed to die, not least because it's so important in putting Durham – newly branded as "Place of Light" – in the international spotlight.
The club, which hosted an Ashes Test match in 2013, plays a unique role in showcasing Durham as a "special part of the world," he says.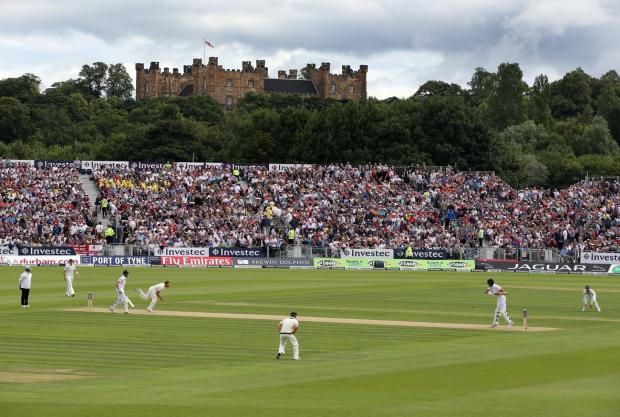 The opening ball of the Fourth Ashes Test in 2013
"Durham's got everything – beautiful rivers, waterfalls, moors. It's a place to come to. It's nice hearing people say they had a great holiday in Durham and that it's a wonderful place with friendly people.
"Of course we're friendly. I always say that if you break down in the south of England and knock on someone's door, they'll open the letter-box and tell you there's a phone down the road. Up here, they'll open the door, say here's the phone and make a cup of tea. It's a different mentality.
"What makes Durham special is the people and what you see out of the window – green fields, business hubs, and one of the best universities. There aren't many things you can find that's wrong about Durham."
With walking and fishing high on his list of passions, he loves the Durham countryside but the man known as "Beefy" also wants to highlight "the wealth of great restaurants" in Durham, citing the Raby Hunt, at Summerhouses, and the Bridgewater Arms, at Winston, as favourites.
Inevitably, however, it's cricket which stands out as his biggest passion and Durham will always hold a special place in his sporting heart.
"To play in the first season for Durham when they came into first-class cricket meant a lot – it's history. What's impressed me most is the success rate Durham's had through its academy. Look at the home-grown talent we keep on finding," he says, pointing out that Durham has produced more England players than any county in recent times, with the likes of Steve Harmison, Paul Collingwood, Ben Stokes, Phil Mustard, Mark Wood, and new star, Keaton Jennings.
Paul Collingwood
"I'm disappointed at the 48-point penalty. It's harsh because it's hurting the players and they've been magnificent," he says.
"There's nothing we can do about previous administrations. What's gone has gone but the players are going to roll up their sleeves and be ready for battle.
"There are a lot of good ideas coming through and it'll be full steam ahead. I'm very excited about it and that runs through the club, the coaches and the academy."
Those ideas include taking Durham matches out to Northumberland, Cumbria and southern Scotland, with a view to collectively attracting a larger audience for key games. More concerts are on the agenda, with a Rod Stewart date announced just this week, and Sir Ian also wants to get serious about a hotel development.
And, naturally, he wants the people of Durham to support the climb back to the top.
"There's been a great response from the public. I walk down the street and people shout 'Good luck with it Beefy – get stuck in'. And that's what we'll do."
With Sir Ian Botham's track record, who'd bet against him meeting his latest challenge?